At a glance
Expert's Rating
Pros
Secure fit during workouts
Decent battery life
Excellent companion app
Cons
Mixed audio
Uncomfortable after long periods
Voice tinny on calls
Our Verdict
The Shokz OpenFit will stay securely on your ears, even during vigorous workouts. However, the audio struggles when turned up full blast.
Price When Reviewed
$179
Best Prices Today: Shokz OpenFit
$179.95
Shokz (formerly known as AfterShokz) is known for its bone-conductor style headphones that can be used for exercise while staying secure, even if you're sweating it out big time.  
For its latest, Shokz has ditched the headband and instead opted for a pair of true wireless earphones that hook over your ears for a more subtle design. Enter the OpenFit.  
Without a doubt, the OpenFit are the best-looking set of headphones from Shokz so far.
Clocking in just shy of $180, these are the most premium earphones from the fitness wearable brand. If you're wondering whether they're for you, then read on. 
Design and build 
Black and beige colour options 
Hook over the ear design  
IP54 rating 
Without a doubt, the OpenFit are the best-looking set of headphones from Shokz so far. They come in two colors: standard black, or the beige option I tested (which looks much nicer than it sounds).  
The hook fits around the top of your ear, while the speaker sits just in front of your ear canal. They're not like in-earbuds, as you'll still have your ears free to keep aware of your surroundings. However, that means that the audio quality is not as impressive as something with a seal. 
This review is part of TechHive's in-depth coverage of the best headphones.
Once you've got the hang of the hook, these are rather easy to wear, even with glasses or a cycling helmet on. I only ran into issues when I had my hair in an updo, with the hooks sometimes getting caught on my head. Each earphone weighs 8.3g, so they're quite lightweight.
Dominik Tomaszewski / Foundry
They're made from silicone, and the matt finish doesn't pick up too many marks. The earphones are also durable, with one surviving an accidental drop without any issues. The OpenFit have an IP54 rating, so they are protected against a small amount of dust and some water spray–they're probably fine to use in light rain and will withstand some sweat.  
While the OpenFit isn't a pair of bone conductor headphones, I got the same soreness in the outer edges of my cheeks when using these for over an hour.
During exercise, the earphones stayed relatively secure–even with me putting them through their paces with burpees, downward dogs, and star jumps. There were a few occasions where the speakers slightly moved during vigorous speed walks, but overall I was impressed.
The OpenFit earphones sit neatly crossed over one another in the accompanying square case. While this is larger than what you'll find on a pill-style pair of buds, it's still small enough to slip into a jean pocket. Unlike the earphones, the case has no waterproofing or dustproofing.  
The case features a single light which indicates the battery status on the front, and a USB-C slot for charging in the rear. An accompanying cable (but no brick) is included in the box.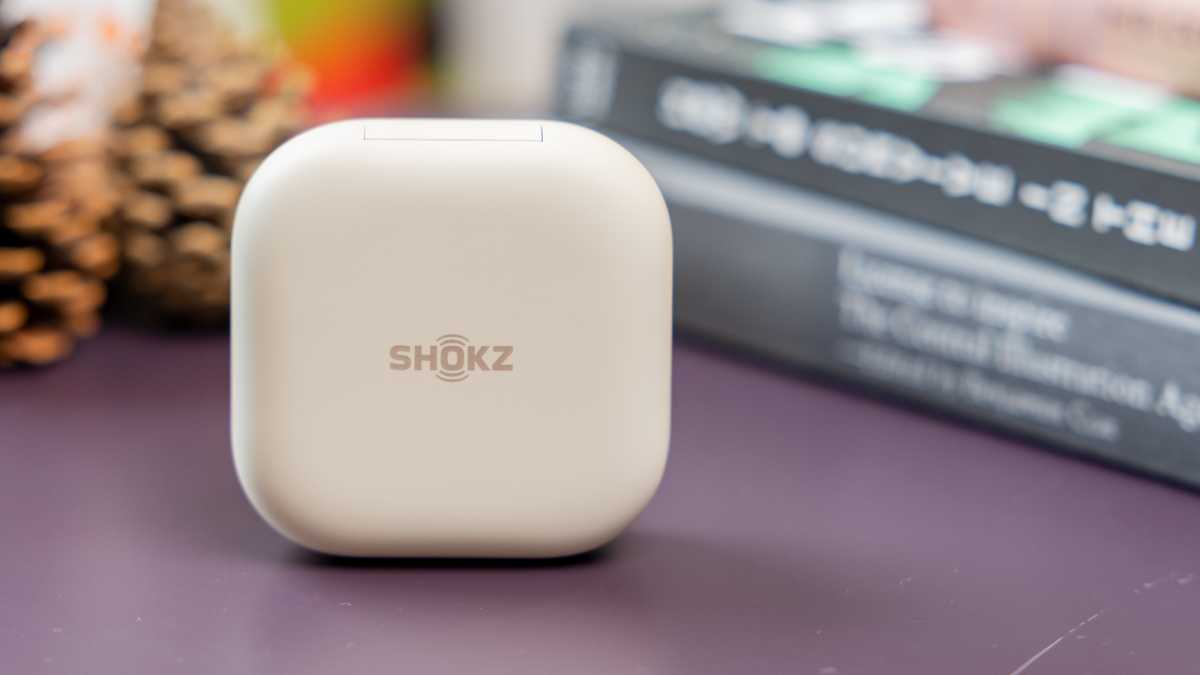 Dominik Tomaszewski / Foundry
Smart features 
Touch controls 
Shokz app customises audio and controls 
10m wireless range 
Pairing the earphones with your phone or computer is as easy as a fiddle. You just need to open the case lid, press on the earphone and wait for the light to start flashing–this means that the OpenFit has entered pairing mode. From there, your smart device will do the rest. 
You can connect the OpenFit as a standard pair of Bluetooth earphones, but if you want extra customisation over the audio and touch controls, you'll want to download the Shokz app for iOS and Android.
The app will automatically register paired devices, and you can use it to view the battery life of the both the case and each earphone in 10-percent increments. There are five audio presets: Standard, Bass Boost, Treble Boost, Vocal and Customise.  
The latter mode allows you full control over the EQ levels to suit the audio to your specific tastes. If you're unsure of which preset mode to use, the app includes audio recommendations, which is very nice to see.  
Hannah Cowton / Foundry
In here you can also tweak the touch controls. There are only two movements you can use on each earphone: double tap and long press. By default, these are set to control playback and volume, but you can also use these gestures to skip tracks and activate the voice assistant.  
The taps require a slightly firm hand, but not enough to hurt–plus, I'd rather deal with controls that require some pressure than having my hair accidentally setting off Google Assistant every few minutes.  
The app has an excellent layout, with concise information and guides. There isn't a lot of unwanted space, and the text is clear to read–a big tick for Shokz on the software front.  
The OpenFit comes with Bluetooth 5.2, and a wireless range of 10m. In real use, I'm able to go upstairs with the earphones on (leaving my phone downstairs) without encountering any audio dropouts. 
Sound quality 
Decent for everyday tracks like pop 
Frequency range limits more complex music 
Calls are clear but tinny
The audio on the Shokz OpenFit is better than I expected from an open-ear device, but it's by no means perfect.  
The buds feature a custom 18 x 11mm driver, which is slightly bigger than what you'd find on a pair of in-ear headphones. However, it only has a 50Hz-16kHz frequency range, which isn't the best. Human hearing is 20Hz-20kHz, so the headphones have weaknesses, especially when turned up to full blast as this distorts the audio.  
When my ears are open to my surroundings, I'm still able to hear details in tracks, but if I'm out in public I'll want the audio typically above 80 percent. Music is still clear on public transportation like the London Underground, but sadly some podcasts are not loud enough to be heard over the screeching rails of the track.
Rest assured, other people shouldn't be bothered by the speakers on these headphones. I didn't disturb any of my workmates, even with the sound turned up full blast.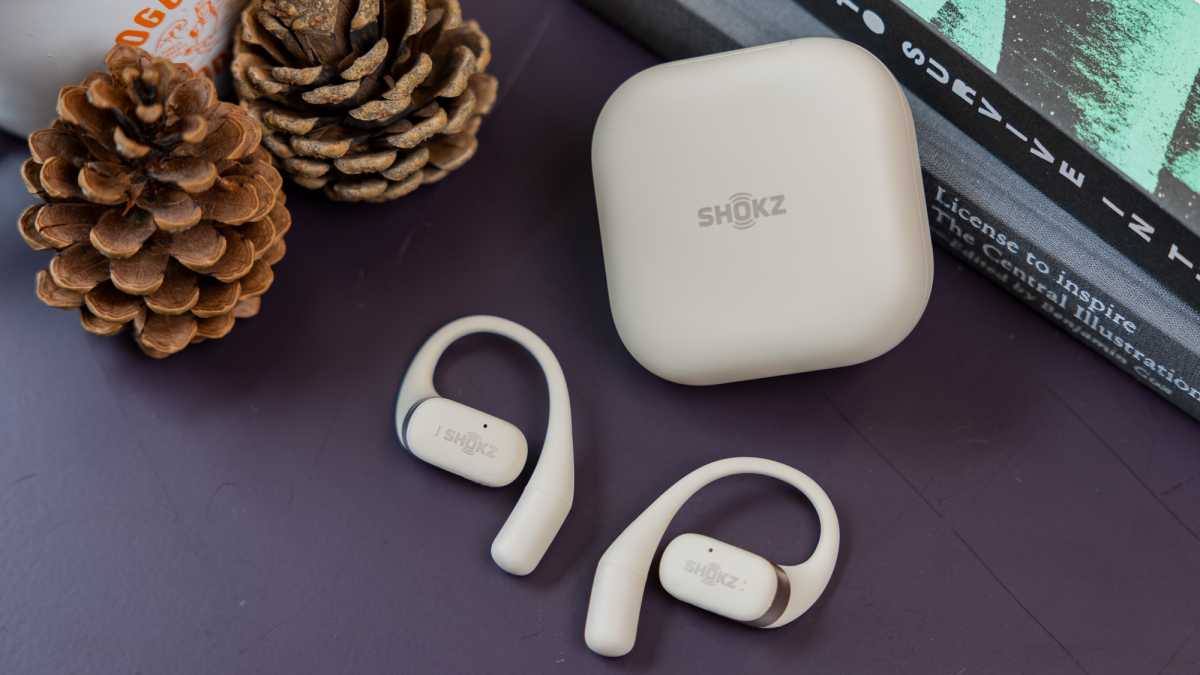 Dominik Tomaszewski / Foundry
The OpenFit deliver what I'd describe as simple, balanced audio, and largely doesn't need to be switched from the Standard audio preset. It works well for pop songs like Lady Gaga's "Bad Romance," which has clear vocals and an upbeat backing track. Soft ballads like Duncan Laurence's "Arcade" also sounds good, with no muddiness on the vocals.  
Sebastian Bohm's "Blue Monday" has clarity and color, with strings singing alongside the synth. However, one of the key weaknesses is in the bass–the headphones don't have that "thump" that I get from higher-quality devices.  
In addition, the Bass Boost mode is only good for electronic music that doesn't have too much substance like dubstep or house. In rock or more complex tracks, a lot of the other instruments lose their clarity, and the sound has a bit of an underwater feel. 
I don't typically gravitate toward the Treble Boost or Vocal modes, though the latter is not bad for listening to podcasts if you struggle with voices and don't mind a more unnatural feel.
…one of the key weaknesses is in the bass–the headphones don't have that 'thump' that I get from higher quality devices.
"No Sleep Till Brooklyn" by the Beastie Boys highlights a weakness on the OpenFit. When the volume is turned up to above 80 percent, the snare blows out on the speakers; the same happens on "Another One Bites The Dust" by Queen. It doesn't happen on all rock tracks, but it's enough to be a noticeable annoyance. Some voices on adverts also have a noticeable hiss.
You can take calls on the OpenFit, thanks to the inclusion of dual mics with AI noise cancelling. I used these on a busy road, and while my voice allegedly sounded on the tinny side, the headphones picked up minimal traffic (with the exception of a random hooligan gunning his moped down the road).  
The person on the call sounded a little quiet to me, a pitfall of earphones that don't have a seal. However, the OpenFit is designed primarily for exercise, so it's not the end of the world.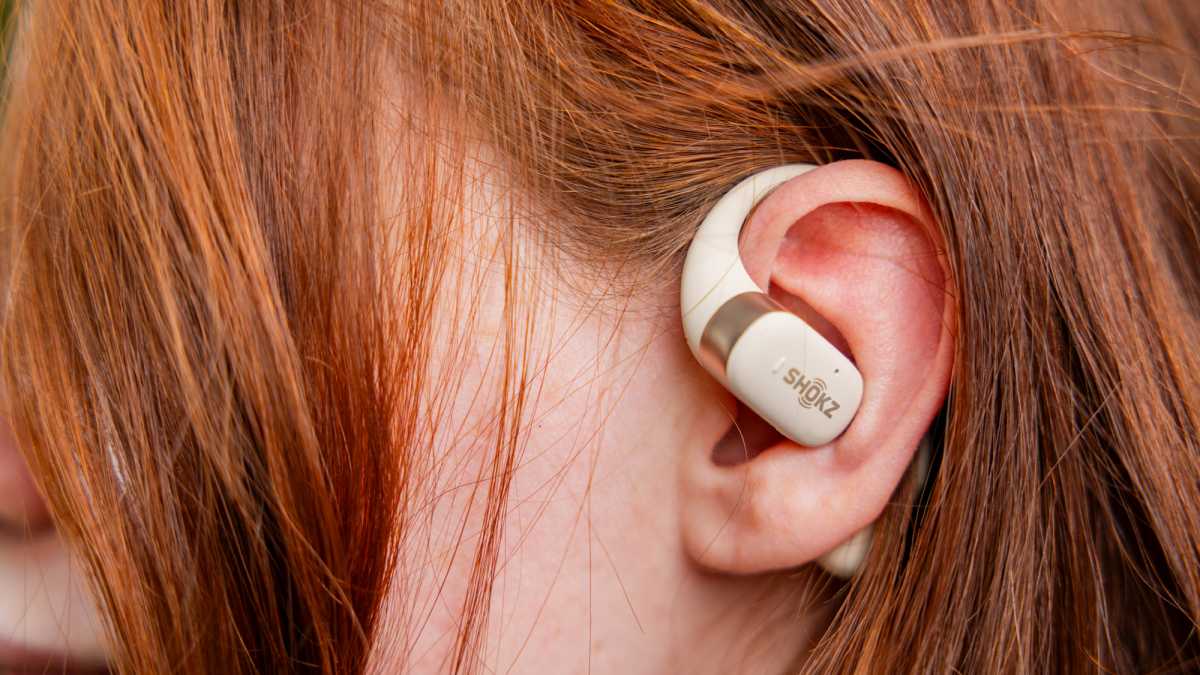 Dominik Tomaszewski / Foundry
Battery life & charging 
Seven hours of battery life on a single charge 
Up to 28 hours in case 
One hour and 45 minutes to charge from flat to full 
You won't have to worry about running out of charge much with the OpenFit earphones. They easily hit Shokz's claim of seven hours of listening time on a single charge, and this can be extended up to 28 hours overall with the 600mAh charging case.  
Charging also doesn't take too long, with the OpenFit juicing from flat to full in around an hour and a half. 
One complaint I have is that the earphones only let you know that they're low on battery with a sound effect rather than a voice prompt, which is easy to miss if you're not keeping an eye on the battery levels in the accompanying app.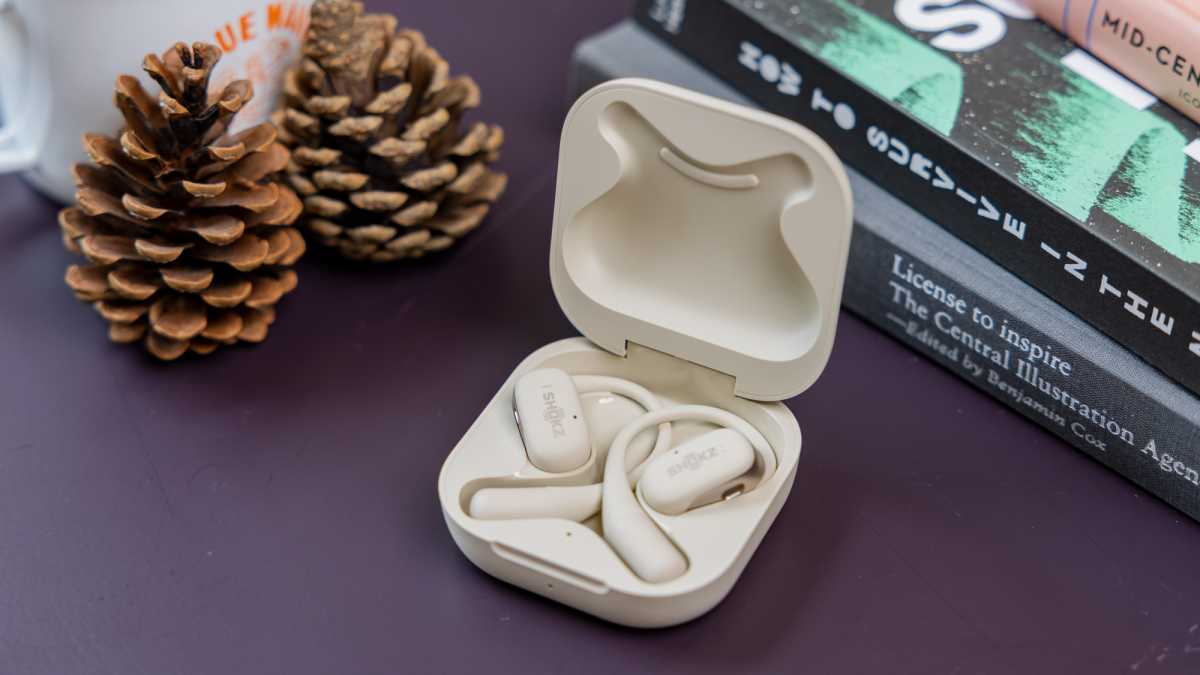 Dominik Tomaszewski / Foundry
Price & availability 
The Shokz OpenFit retail for $179/£179, and are available from Shokz, Amazon and Walmart in the US, and Shokz, Amazon and John Lewis in the UK.
Verdict 
The Shokz Openfit provide a secure fit and a durable battery life, making them an ideal companion for workout sessions that are under an hour–anything above this, and the fit starts to feel slightly uncomfortable. 
The frequency range is not the best, so some audio (particularly rock tracks) can distort when turned up to full, which you'll need if you plan on using these earphones for daily use such as commuting on public transport. This likely won't be as much of a priority if you're out for a jog or cycle and want to keep your volume lower to be aware of your surroundings.  
If you want more impressive audio, then there are other similarly priced options out there, but not many that offer such a discreet yet secure build. 
Specs
18×11mm customised dynamic driver
Dual microphones
Wireless: Bluetooth 5.3, A2DP, AVRCP, HSP, HFP
Touch controls: Yes
Battery life: Up to 28 hours (including case charging)
IP54 water resistance (earphones only)
Weight: 8.3g per earphone, 57g case
Works with Shokz app