At a glance
Expert's Rating
Pros
Endlessly configurable
Add-on soil moisture monitor adds utility with no real added complexity
Extremely detailed logging in the app
Cons
No physical controls
Setup is rocky and archaic
App can take some time to get used to
Our Verdict
This smart irrigation system has loads of options, especially around soil monitoring, but some will find all that flexibility difficult to wade through. Moen is in the midst of building out deep and wide smart plumbing ecosystem for the home, and while it's not quite finished, no other manufacturer has anything comparable.
Price When Reviewed
$382.00 MSRP; street price at time of review: $234.99, plus $69.99 for soil moisture sensor
Best Prices Today: Moen Smart Sprinkler Controller (16-zone)
$234.99
Moen, the plumbing manufacturer behind the famous single-handle faucet, knows a thing or two about delivering water inside the house, but it's a rookie when comes to lawn and garden spaces. As it turns out, Moen has some great ideas, including support for wireless sensors that measure the amount of moisture in your soil, to prevent water waste from unnecessary irrigation.
The Moen Smart Sprinkler Controller is a familiar device designed to work with standard, wired, in-ground and drip-line sprinkler systems. It's available in two configurations: an 8-zone model that sells for $180 and a 16-zone model priced at $235. I tested the latter configuration. The unit is designed for indoor (or garage) installation, but an outdoor enclosure is in the works if you need to install the system in a place where it's exposed to weather. The price of this accessory has not yet been announced.
Moen is forming a comprehensive smart plumbing ecosystem with a Wi-Fi-connected water valve, leak sensors, smart faucets, and now this sprinkler controller and soil sensors.
Design and build quality
The hardware is basic; in fact, the unit has no physical controls at all—just a single status light that lets you know if everything is working. All operations are performed via the Moen mobile app.
But before we get to the app, let's discuss physical installation. The only major effort here is connecting your irrigation wiring. Moen's controller uses terminals that must be screwed down to hold the wire leads, instead of spring-loaded clips, so the process can be a little tedious. Fortunately, the screw terminals are sturdy. Once I got the wires connected, they felt solidly locked into place.
You'll need to provide your own tiny flathead screwdriver, as one is not included in the box. All the usual device options are present here, including support for master valve, flow meter, and wired rain sensors.
This review is part of TechHive's in-depth coverage of the best smart sprinkler controllers.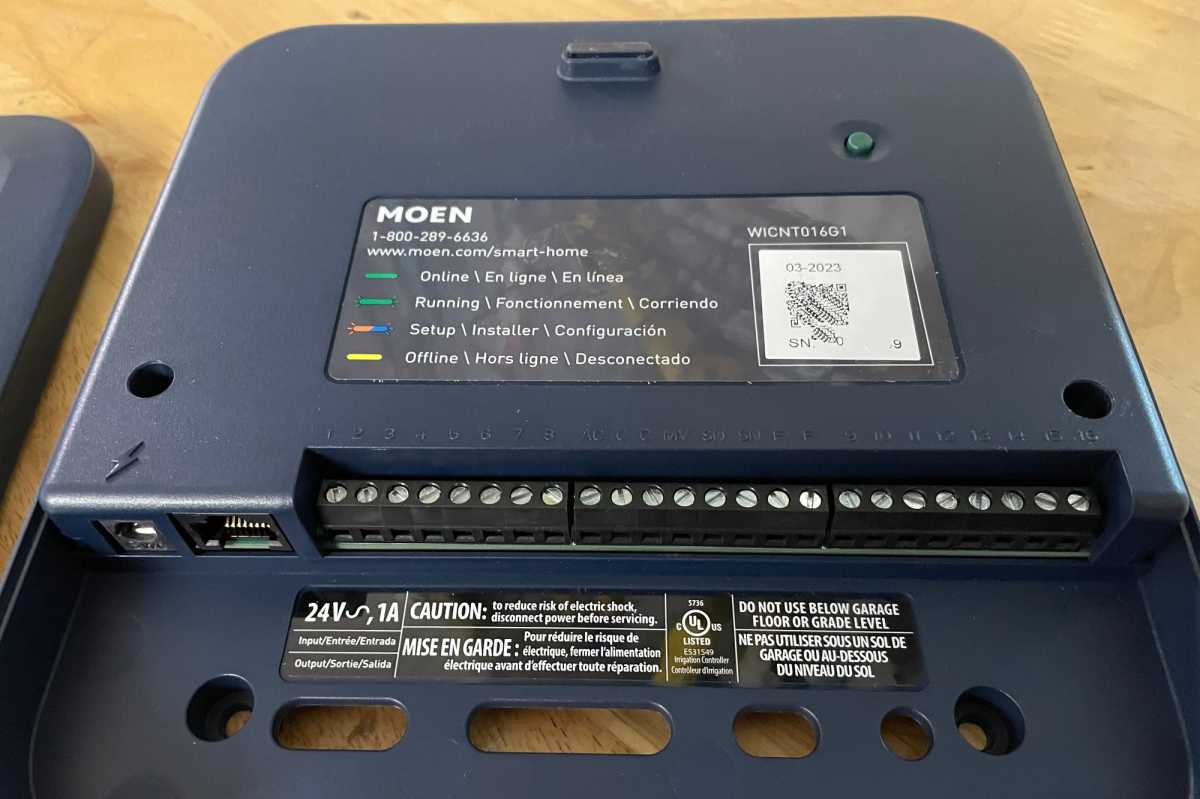 You'll need to attach the small wires for your sprinklers to these tiny terminals and then tighten them down. Spring clips would be a lot more convenient, though there's something to be said for the reassurance of a screw.
Christopher Null/Foundry
After powering up the controller, the Moen app steps you through the basics, though getting the unit connected to your 2.4GHz Wi-Fi network involves a rather dated process of establishing a manual connection to the controller's temporary network before you bridge the device to your home network. This connection failed initially in my testing, requiring me to step through the bridging process a second time, which, while plodding, eventually succeeded.
Moen does not provide much handholding in getting your zones set up and schedules configured, and some familiarity with smart watering systems will be quite helpful in grounding you on how to use the system. While the system automatically discovers each zone you have connected, the setup process doesn't walk you through setting the zone details, such as sun exposure, soil type, and sprinkler head type; you're largely on your own when it comes to specifying this type of information.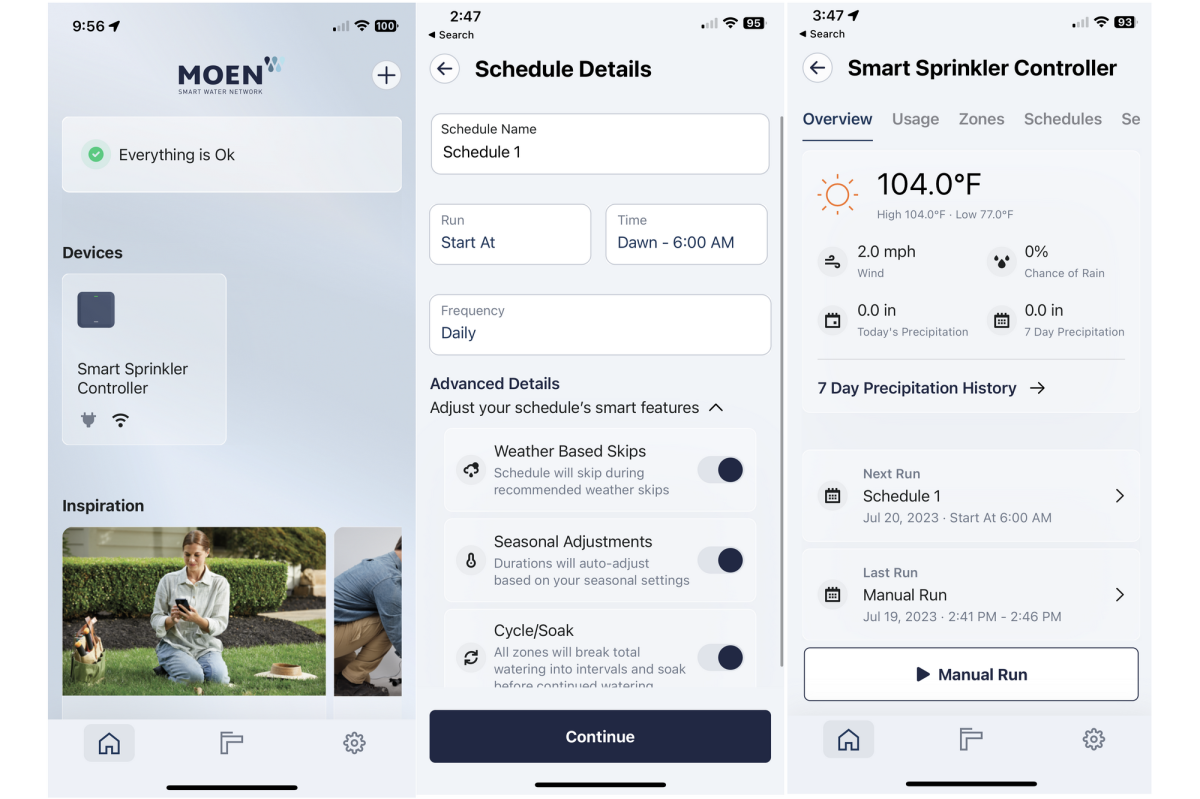 The Moen Smart Sprinkler Controller can respond to both weather conditions and soil moisture levels (the latter condition depends on optional sensors).
Christopher Null/Foundry
As it turns out, none of that really matters much, anyway, as the app does not suggest an appropriate watering regimen based on any of this data, and all watering runs must be manually configured by time and date. The app, however, does include a basic "weather based skips" option, which will abort a watering run if it recently rained nearby, it's too cold, or the wind speed is too high. (Each of those thresholds are configurable within the app.)
The unit can also be paired with unique wireless soil sensors ($70 each), which offer a convenient way to determine soil moisture levels at a depth of 1, 3, and 5 inches—all without having to worry about running new wiring to your yard. The sensor stakes are solid-state devices that contain a non-replaceable lithium-ion battery which Moen says will last for 6 years. (After that, the device is entirely defunct.) With a promised range of up to 245 feet to your controller, the unit should be versatile enough to handle small yards, but not much more. I was able to cover my entire front yard (as the controller is in the nearby garage), but my back yard was out of range.
Moen's soil moisture sensors can be buried completely in the ground, so you don't need to worry about damaging one with your lawn mower.
Christopher Null/Foundry
The soil sensor provides an awful lot of information, and it can be overkill unless you're a true irrigation nerd. Graphs plot out soil moisture at each of the three depths multiple times per day alongside the ambient temperature. But is a 71-percent moisture level at a 5-inch depth good or bad? Answering that kind of question is beyond my level of watering expertise. Naturally, the real benefit here is using soil moisture to determine whether to skip a watering run. In this current climate of sustained, daily 100-degree highs in my part of the country, it took a little manipulating to create a level where the Moen thought my soil was "too wet," but since these levels are completely configurable (all the way down to 0-percent moisture), there's no limit to how you can set things up.
Moen sends out helpful push notifications when watering begins and ends, and detailed logging in the app showcases water usage over time (plus savings from any weather- or sensor-driven skips). Moen also connects to both Alexa and Google Assistant (but not Apple's HomeKit ecosystem) if you want to initiate watering zones with voice commands.
Purchase one or more of Moen's optional soil moisture sensors and the sprinkler controller will take those readings into account to determine whether or not your lawn needs to be irrigated.
Christopher Null/Foundry
Specifications
No. of sprinkler zones: 16-zone model reviewed, 8-zone model also available
Wiring connectivity:   Screw terminals
Network connectivity: 2.4GHz Wi-Fi only
App for scheduling and control: Yes, Android and iOS
Scheduling options: Daily or weekly
Weather skip options? Yes, controller can automatically skip watering based on weather and soil conditions
Physical controls: None, all controls are in the app
Soil moisture sensors: Optional wireless sensors, $69.99 each
Indoor/outdoor installation: Indoor only, optional outdoor enclosure announced, but not yet shipping
Smart home integration: Amazon Alexa, Google Assistant (not HomeKit compatible)
Warranty: 1-year warranty against manufacturer defects
Should you buy the Moen Smart Sprinkler Controller?
At $180 for an 8-zone controller, Moen's controller is roughly in line with our top pick, the Rachio 3; feature-wise, the only things Moen is missing are physical control features and smarter weather intelligence features that can help guide how much water you should be using on individual zones.
On Moen's side of the ledger is a growing collection of other smart plumbing products—a smart main water valve, leak sensors, smart faucets, and more—that are forming a comprehensive smart plumbing ecosystem. Owning other Moen smart products increases the value proposition of each of them, because they can all talk to each other.